We're back!
Yup, you read that right The Stormed Youth and your favorite wizarding duo are back in the spiral and ready to be absolutely mauled by all the new stuff KingsIsle added.
From a quick glance through our blog archive (Which Brady has insisted we keep even though I think it's atrocious) you'll see that we kept posting somewhat regularly until 2014 when we just dropped off the map.
However a few months ago I saw a card at Walmart for a familiar game. I texted Brady a picture and said "Wow our childhood game looks awesome now." and we both just had to jump back into the spiral.
I couldn't remember my old account name and password (Nice job me) so I made a new account as did Brady.
Now we're back! We've actually been back in the spiral for quite some time now, as we are both level 42 and in Mooshu. We've just been waiting to see if it's plausible to think that we can eventually catch up with the current updates (You know, a level cap of 110 and like 15 worlds) and we decided that while we may not be able to catch up anytime soon we would like to continue adventuring through the spiral.
Now Brady stopped his wizard Aaron Duskriver before he even entered Dragonspyre so somewhere around level 41 or so. Currently where we're at in Mooshu we're about 5 hours of questing away from overlapping where his old character was. So that's fun.
My wizard Dustin Griffinflame made it a little bit further. Dustin was around level 57 and somewhere in Celestia, so we still have a while to go before we reach where I was.
Onto our new era of Wizards. Both Brady and I decided not to remake our original wizards quite yet, as we're saving that for a very special series later on, however we both are loving our new wizards.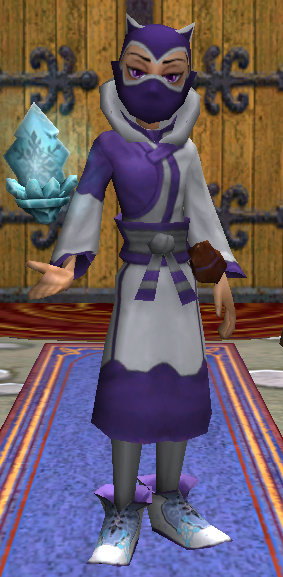 Diana Dreamweaver
Sam Thunderbane
My wizard is Samuel Thunderbane (longtime readers of the blog may remember him as my alt. that overlapped Brady's main character a while ago) a balance wizard, level 42, who loves judgment and hates the look of Mooshu gear. Thank god we're getting into Dragonspyre soon.
Brady's Wizard is Diana Dreamweaver: ice wizard, level 42, striking white hair, and who's just happy to be here alongside her trusty sea dragon Pebbles. Brady on the other hand loves Mooshu and Wintertusk fashion, and makes it customary to tell me about it every time we play.
Stay tuned for exciting announcements, including another post of stuff that we missed out on during our 2 year break from the spiral, a new video series, and maybe the return of some old friends...
Hope to see y'all in the Spiral!